There is no shortage of cars from Vung Tau to Ho Chi Minh City on the market, but because of the convenience, any line that can pick up and drop off at home will be sought by many people. The following is a summary of transports from Ho Chi Minh City to Vung Tau that you can refer to.
Limousine Hai Van Car
Hai Van is one of the few lines with 100% of the vehicles being luxury limousines in Vung Tau. In addition, passengers using Hai Van's services will receive a door-to-door shuttle service in the inner city of Vung Tau and the central districts of Saigon.
Pick up and drop off location:
In Vung Tau: drop off at home in the inner city
In Saigon: Tan Son Nhat airport and central districts, offices in District 1, large hospitals.
Bus ticket from Ho Chi Minh City to Vung Tau: 160,000 – 180,000 VND
Hotline: 0915241456 or website: https://www.haivanlimousine.com/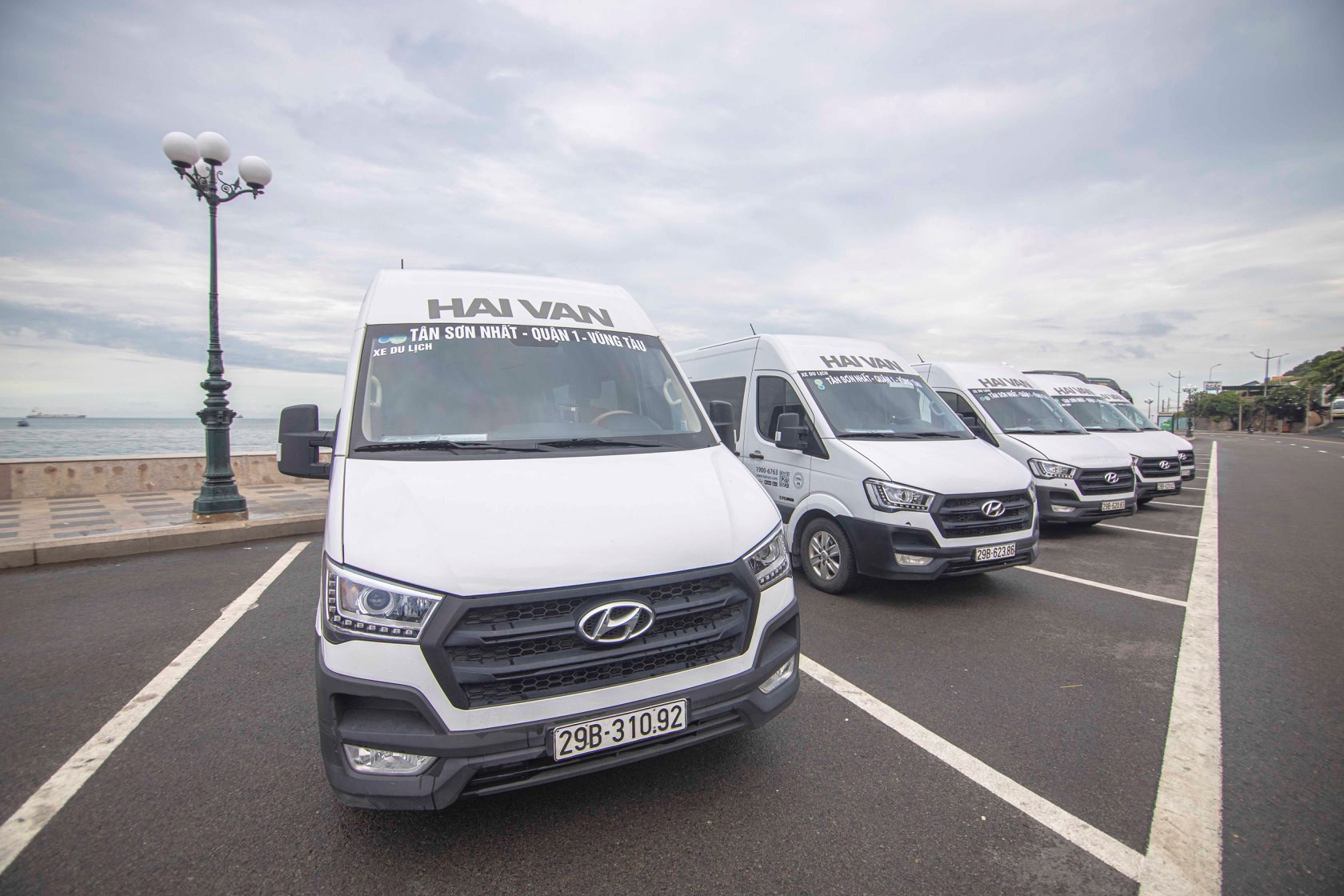 Thanh Vinh Limousine
Another familiar name is Thanh Vinh limousine. With a fleet of luxurious Dcar transports and modern interiors, customers will not be disappointed because they have trusted the line on each trip.
Pick up and drop off location:
In Vung Tau: in the inner city
In Saigon: Airport, Hoang Van Thu park, cultural center of Phu Nhuan district, hospital of Phu Nhuan district, Hang Xanh intersection, ..
Ticket price: 140,000 – 160,000 VND
Ticket booking hotline: 0919757166 or website: https://www.thanhvinhvungtau.com/
Phat Loc An
Phat Loc An is a name that you should also try once. The quality of service here is always highly appreciated, but one limitation is that the frequency of cars is lower than other bus operators, please note.
Pick up and drop off location:
In Vung Tau: Office at 247 Thong Nhat, Vung Tau City. Pick up and drop off guests in Vung Tau city
Saigon: at Phat Loc An office

Ticket price: 140,000 – 160,000 VND
Phone booking: 0917276166
Vie Limousine
A new transport brand, strongly invested in high-class Skybus Solati Limited limousines. Vie Limousine not only makes passengers satisfied and impressed by the fleet of outstanding utility transports, but also the investment in high-class lounges, free coffee and drinking water for passengers at both ends of the center of Saigon and Vung Tau.
Operating time with frequency from 30 to 60 minutes/trip
Vie Limousine bus from Saigon to Vung Tau has time frames: from 04h00 to 22h00
Vie Limousine Vung Tau to Saigon: from 03h00 to 19h00
Ticket price for Vie Limousine bus: Business class seat: 160,000 VND/ticket and Driver's seat: 140,000 VND/ticket
Departure/Pick-up point
In Saigon: the bus departs at: 131 Nguyen Thai Binh, District 1, Ho Chi Minh
In Vung Tau, Vie Limousine departs at 33, 3/2 Street, Vung Tau City. Particularly for Vung Tau, Vie Limosuine has shuttle service within the inner city.
Phone booking: 0918326066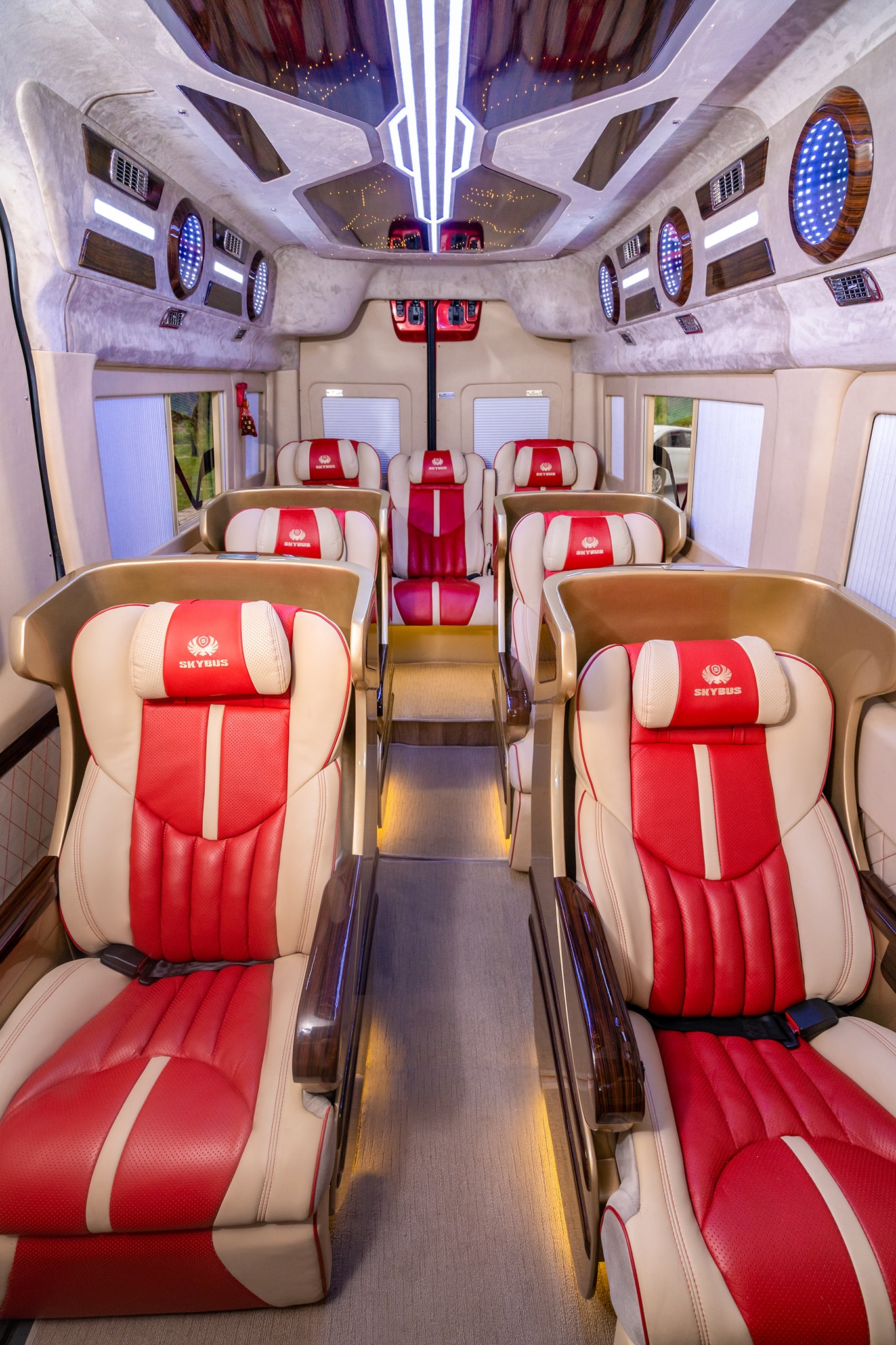 Anh Quoc Limousine
Almost all Anh Quoc Limousine models have a high-class 9-seat design from a regular 16-seat car to create a spacious space, large seat size. All 7 seats behind the driver on Limousine bus to Vung Tau are equipped with 8-mode Massage system to help passengers relax during the journey without feeling tired. The seats in the middle of the car have armrests, which can be reclined from 10~45 degrees depending on needs. The car is equipped with Wifi, a USB charging port right next to the seats, a large 21-inch LED screen and cold towels, free mineral water.
Service staff are always enthusiastic to assist passengers in all situations, drivers are carefully selected, always putting the safety and comfort of passengers first.
Phone: 19003300 – Website: https://www.anhquoc.vn/
Pick up address:
In Ho Chi Minh City: Tan Son Nhat Airport (domestic parking lot) and Office 69 Truong Son (100m from the airport)
In Vung Tau: 108 Le Hong Phong, Ward 4, Vung Tau City, Ba Ria – Vung Tau Province. Anh Quoc pick-up and drop-off passengers to their homes in Vung Tau.
Just now is a collection of cars from Ho Chi Minh City to Vung Tau that we have found out about picking up and dropping off passengers at home. Hope you will like this article.