Phone number 0915241456 for passengers to contact to book the fastest Hai Van Vung Tau shuttle bus to District 1 and Tan Son Nhat Airport.
Limousine Hai Van Vung Tau
Currently, with the largest cars Vung Tau today, Hai Van provides about 50 high-class limousines, mainly 3 main models: 9-seater, 12-seater and 18-seater. The car is fully equipped with facilities such as: strong wifi connection, drinking water, charging socket, … to serve the maximum needs of passengers on board. In addition, the car s also equipped with a TV to help you entertain during the journey, giving you a comfortable feeling like you are in the bedroom of a 5-star hotel.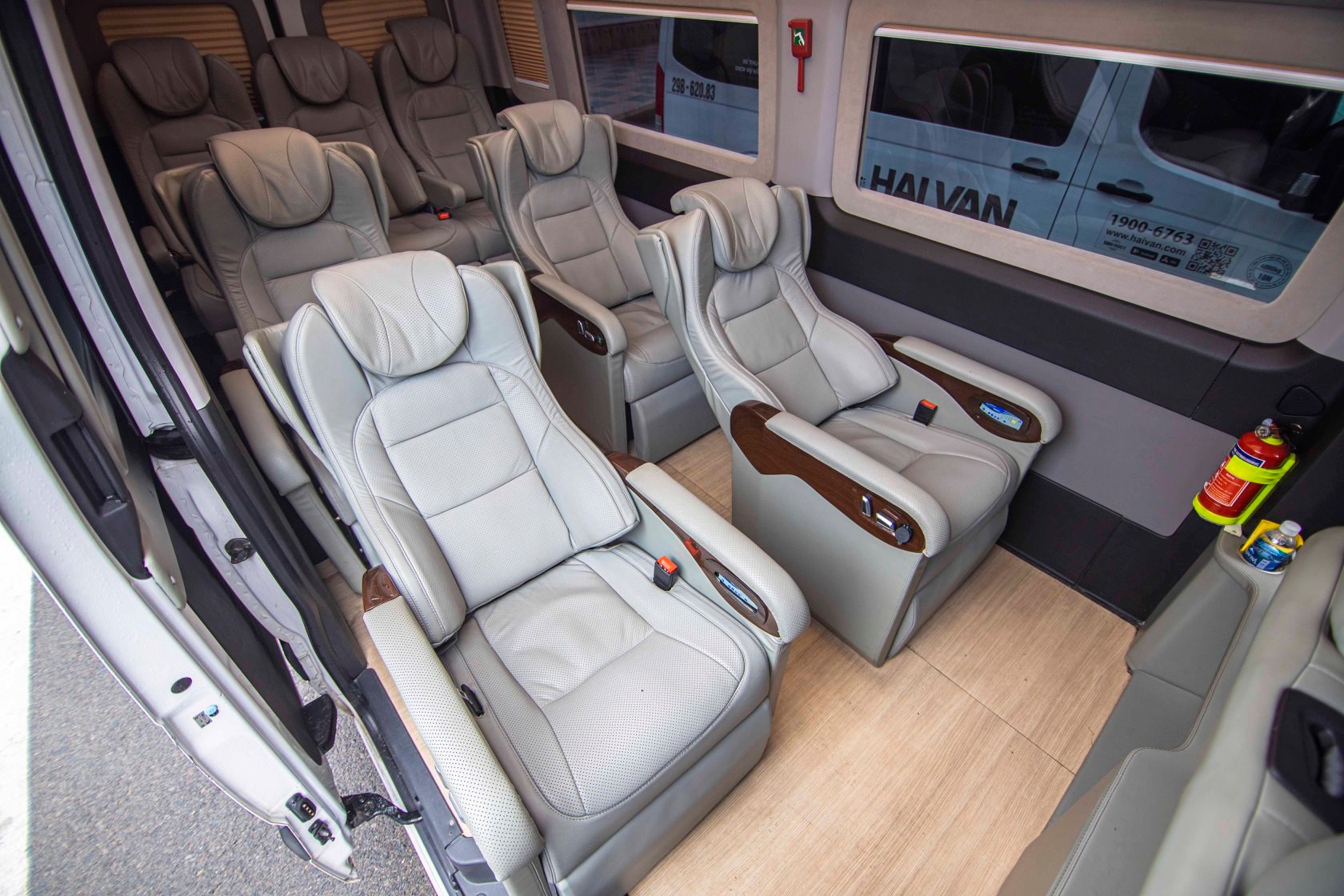 The bus fare from Ho Chi Minh City to Vung Tau is very reasonable from only 120,000 VND (18-seat limousine) and 150,000-180,000 VND (9-seat limousine).
Every day, Hai Van has a lot of cars moving from Vung Tau to Saigon very early, from 3:00 am and from Saigon to Vung Tau from 5:30 to 22:30, on average, each way is 30 minutes/trip. Especially about the pick-up location, the line has a door-to-door transport in the inner city of Vung Tau, Tan Son Nhat airport and most of the central district in Saigon. 
Address of Hai Van Vung Tau: 01 Le Quy Don, Ward 1, Vung Tau City, Ba Ria – Vung Tau Province (Right inside, ground floor of Rex hotel building, corner of Le Quy Don and Truong Vinh Ky junction).
Contact phone: 0915241456
Website: https://www.haivanlimousine.com/
One thing that is completely different from the cars that have appeared on the market is the seats of Hai Van Royal, inspired by the beach chair.
Hai Van Limousine Office in District 1
The bus to Vung Tau from District 1 of Hai Van Limousine in Saigon has a 5-star standard waiting room at 111 Nguyen Thai Binh, Nguyen Thai Binh Ward, District 1, Ho Chi Minh City.
Opening time: 5:30 – 20:30.
Operating frequency: 30 minutes/trip.
Contact phone: 0917276166
The advantages of Hai Van Vung Tau car
Hai Van Royal car has many points to satisfy customers when using the latest Hyundai Solati model with high ceiling design, extremely spacious space and both sturdy, elegant and classy, superior to other competitors in the same segment.
Hai Van Royal installed glass to prevent UV rays, reducing the harmful effects of sunlight, customers can comfortably enjoy the scenery along the road without being dazzled, without worrying about skin damage.
New Hyundai Solati car 2019.
Luxury waiting room.
Professional and kind service staff and drivers.
Using technology (Hai Van App) for ticket booking and management is a strong point of Hai Van Limousine.